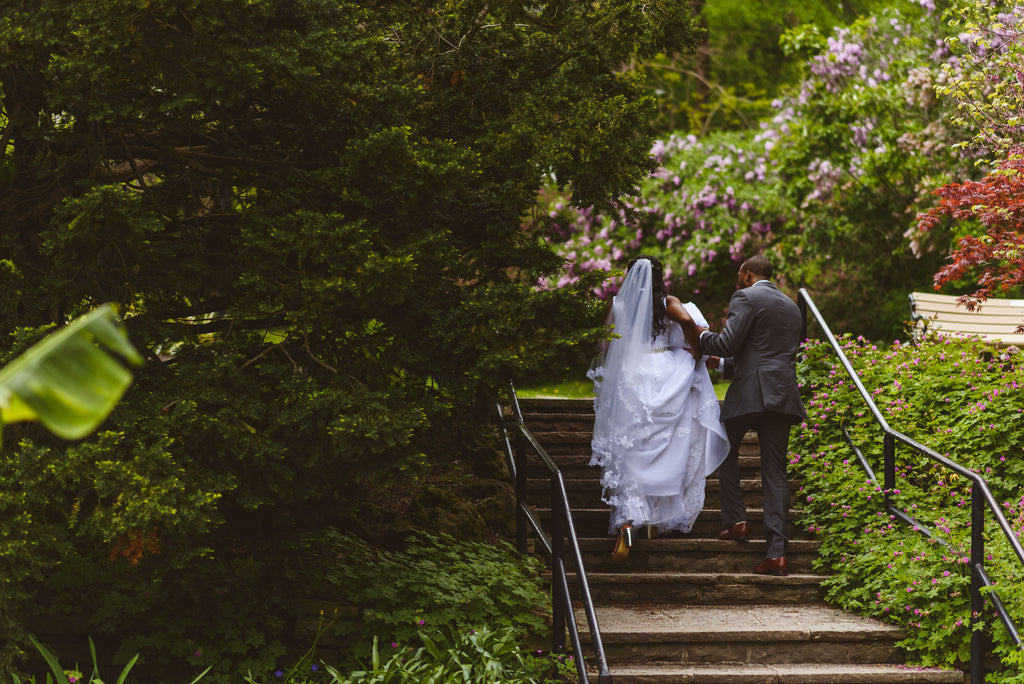 My and my new husband Toro with our best friends, Maid of Honour Tameika and Best Man Jenyo
----
Today, officially marks 3 months of my husband and I being married. WOO HOO!
Okay, yes, 3 months is not at all a pinnacle marriage milestone but I feel so accomplished already because I made it through the actual wedding planning part. Listen, if you've planned your own wedding, or were apart of someone else's wedding planning, you completely understand why I say that, ...and why I've titled this blog as such.
Rewind to March 2016, when I got engaged: I already knew going into wedding planning that it was just a day, that I should be more focused on the days/months/years after, so for me, it was really hard for me to take planning decisions to heart, after all, it's just a day, right? The only thing I knew for certain was that, all the dresses needed for me and my girls were taken care of by my lovely mother (In an upcoming post I will share the dress design & creation process and how that was literally the BEST part of wedding planning). I figured if I am blazé about the rest of details pertaining to the day then other people wouldn't invest their heart and soul in them either and things would be chill, you know, no stress.
Turns out, I was wrong.
Family
Being of Nigerian decent, weddings are a cultural extravaganza for us. Family and friends travel near and far for this grand production of music, outfit changes, dinner courses, and of course, the money spraying, so you better believe there is an investment.
Both my husband and I are very close to our families, so we struggled being vocal about what we wanted but more importantly what we didn't want, out of fear of starting an argument. We quickly came to realize that if we truly wanted to the wedding he and I had talked about, then we would need to learn how to put our foot down without upsetting our family.
We ended up with a wedding that was the perfect blend of our heritage, Canadian born/Nigerian roots. There were times when we got so frustrated, we joked about cancelling the whole thing and eloping but we learned that our family just needed to be told (yes, sometimes told more than once) if we wanted our wedding to play out the way we wished.
My husband's parents and my parent's (Designer, Elizabeth Lee Adeghe on the far right)
----
Friends
We were lucky enough to have an amazing circle of friends to keep us sane throughout the whole process. It's important to keep these people extra close because...
"You find out who your real friends are when you are planning a wedding."
I had about 17 different people tell me this and I didn't know what they were talking about. I thought, come on, how bad could it really get? For some, it pops up when you start assigning roles, others it's the first bride event (engagement party/wedding dress shopping/bridal shower), and then sometimes it's a matter of it not being a priority for people. Either way, prepare for some friends to show up for you during the process and others to just NOT. Sure, Its disappointing, I was upset a few times during the process but it becomes so insignificant over time when you see the love that shines for the people that love you. 
Our tribe.
 ----
The (MANY) Details

Some Wedding materials I created.
When it came to details, there are SO many annoying things that coming up. 
Round 1: Gather Invite List Data
Round 2: Revamp list entirely to add much needed family friends that NEED TO BE THERE & Scale back.
Round 3: Have some really awkward conversations with those who have words for you 
Round 4: Feel awful and then feel kinda annoyed at the strange sense of entitlement of some people and then feel awful all over again
Repeat, until your venue says NO MORE CHANGES
Round 1 - 3: Create your draft of the seating chart then realize questionable friendships and family beefs slipped through the cracks and certain people can't be seated near each other. Redo the entire seating chart.
Example 3: Create your own invites and signage because oooh you want to show you're a creative bride who refuses to spend the extra money
Round 1 - Whatever: Find an online program to make all wedding materials. Proof read invites at 3 in the morning. Send wedding invites realize there is a mistake on wedding invites. Cool!
Our wedding invitation.
...I'm sure you can now see why the details are SUCH a headache. And that was just a taste, imagine the rest: food, MONEY (oh Dear God, the money), venue, decor, flowers, Nigerian outfits, music....
My husband was the calm in the storm, he was my soundboard who listened to his fair share of wedding rants, provided reason and reassured me everything would be alright. He was right, you can't invite everyone, its not a birthday party. The things you can't control, you need to let the rest go. It will drive you mental trying to manage all logistics. Delegate girl, DELEGATE.
It's almost over, you're almost there, hang in there... IT GETS BETTER!
By March, I was low-key stressed beyond belief and couldn't wait for my honeymoon (aka the opportunity to ignore everyone).
But here is where things suddenly became blessed (or at least it did for me): The moment where wedding planning goes on autopilot and your tribe comes through clutch!
In March, my mom and bridesmaids hosted the most amazing bridal shower and that was my first view at the love my husband and I have in our lives. Yes, there were things that came up, things that annoyed me, but I remember the feeling I had when my mom and I settled in at the end of that day, I was quite literally overjoyed.
Oh boy ...and then there was my bachelorette, where my closest girlfriends stole me and took me to Atlanta. It was the perfect mix of bachelorette party fun and history (we went to Martin Luther King Jr's family home and gravesite). These girls refused to let me open my wallet and pay for a single thing; they planned awesome activities including, High Tea, my absolute favourite fancy thing to do, they truly made sure I was celebrated and appreciated.
Mother Daughter Wedding moment
When you look back on all the good things that have happened over the course of the planning, you realize the fuss doesn't matter, AT ALL. You envision all of your hard work coming to life and start to hand off responsibility to family, friends, workers. Family starts to arrive, friends start to message you about their excitement to watch you and you best friend tie the knot. Literally all you have left to do is spend time with loved ones, bond with girlfriends and especially your significant other and anticipated the big day.
THE BIG DAY! 
May 26, 2017 - Nothing went as I imagined but everything fell perfectly into place. This was another one of those things that people told me but I didn't believe them. I knew my personality would have me critiquing EVERY LITTLE THING that was happening, texting my Day Of Coordinator, who shut me down with one text, "Amena, let me do my job"
(Shoutout 818 Events, Advice: get yourself a day of coordinator, you'll thank me later).
Cake Cutting in our 1st Traditional outfit 
All of the aforementioned stress had been washed away by all the tears (happy tears). We had an unbelievable day filled with culture, love, faith, friends and family. The dance floor was filled, the food, plentiful and the drinks and love runneth over. I was doped up on the ooey gooey feelings of love from my new husband and all 285 people who travelled far and wide to watched us recite our vows. 
Dancing in our 2nd traditional outfit
So yes, if you ask me, after ALL of that, would I do it all again? Would I go through the annoying seating plan drama, the back and forth with family members about what to include and what not to include, the disappointments, the money we spent, yadda yadda yadda...
Well, if it means the same outcome of being married to the love of my life and a pretty dope party....
then HEELLLLLLLLL YEAAAAAAAA I would!!
But in all seriousness, please don't ask me to do it again :)
Happily Ever After <3